Getting around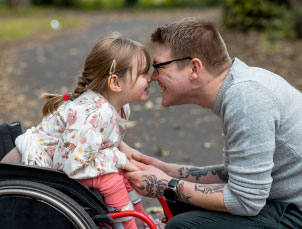 Getting around
Getting out and about with children with disability can take extra planning. Help is available to make it easier for your child and family.
Accessible parking
Parking as close as possible to your destination is helpful. An Accessible Parking Permit allows you to use specially marked parking spaces. Here's how to get one:
Start the application online and you will receive an application reference number via SMS.

Give this reference number to your GP or your child's occupational therapist, who will complete the form online and submit the application.
Your child is usually eligible for an Accessible Parking permit if they have:
A significant mobility impairment
A severe medical condition affecting their ability to walk short distances
A significant cognitive, behavioural, or neurological impairment that requires a support person for safety
Useful links
Mobility and Accessibility for Children in Australia (MACA)
Mobility and Accessibility for Children in Australia (MACA) has practical information to help your child travel safely in a car.
Search their up-to-date product guide for special purpose car seats, harnesses and vests. You can also find an occupational therapist trained in safe car travel for children with disability.
Useful Links
Changing Places
As your child grows, regular public bathrooms may no longer be suitable, especially if your child has continence support needs.
Changing Places bathrooms are designed specifically for people with higher support needs and offer excellent features that make using the bathroom easier for you and your child.
These features include:
Height adjustable adult-sized changing table
Ceiling hoist (you need to bring your own hoist sling)
Space to manoeuvre a wheelchair or other mobility aids
Centrally located toilet with dropdown grab rails
How do I find a Changing Places bathroom?
There are currently 97 Changing Places across Victoria, you can find where they are located on their website. Many Changing Places bathrooms are kept locked and require an MLAK key (Master Locksmiths Access Key) to open them.
Useful Links
MLAK key
MLAK is a master key that provides access to various facilities, making it easier to get around the community. You can use an MLAK key to open Changing Places bathrooms, unlock gates and ramps on Liberty Swings, and access elevators at railway stations.
You can order an MLAK key for $25 by filling out the form on the Master Locksmiths Association website. If you have a Victorian Companion Card, you will get a free MLAK key.
Useful Links
Master Locksmiths Access Key (MLAK)
Public transport
Accessibility
In metropolitan Melbourne, all trains are wheelchair accessible, with designated spaces for passengers using mobility aids. The platforms have wheelchair symbols to indicate where to board the train, and the first door of the first carriage typically provides a ramp for easier boarding and disembarking. You must be at this marked spot when the train enters the station so that the train driver can see you on the platform.
Melbourne train stations are accessible via ramps or lifts. Some ramps may be steeper, so you may require assistance.
Most train stations in regional Victoria are wheelchair accessible. You can get more information on the V/Line website.
Most local buses in Victoria have low floors, and some can be lowered closer to the kerb by the driver.
Trams have both low and high-floor options. Low-floor trams have designated spaces for mobility aids, marked with a wheelchair symbol on the floor. High-floor trams have steps and are not suitable for certain mobility aids. The Yarra Trams website provides more detailed information about using a mobility aid on the tram network.
You can call 1800 800 007 to check the accessibility of trains, buses and trams.
Useful Links
Wheelchair access and mobility requirements
Plan your journey
PTV Journey Planner is a website and app which helps you plan your journey across Melbourne and regional Victoria.
You can select the accessibility setting to only see options that are wheelchair accessible.
Useful Links
Public transport travel costs
The maximum daily fare for public transport anywhere in Victoria is $10 or $5 concession.
Children aged 4 and under travel for free.
Concession fares
The following passengers are eligible for concession fares:
Children aged 5 to 18
Carer Card ('we care') holders
Health Care Card holders
Pensioner Concession Card holders
Senior Card holders
You need a concession myki to get the concession fare.
Useful Links
Free travel
You travel for free on the weekends if you receive the Disability Support Pension, the Carer Payment, or if you have a Carer Card ('we care').
Companion Card holders can travel free when travelling with the person they care for.
Access Travel Pass
If your or your child's disability makes it difficult to touch on and touch off on public transport using myki, you can apply for an Access Travel Pass. The Pass gives you free travel on Victorian public transport and comes with a lanyard and photo ID. Remember to carry it with you whenever you travel. This pass is for people with disability who can travel independently. You can print the form from the website link below. A health practitioner will need to complete part of it.
You are eligible if:
You're a permanent Victorian resident
You have a permanent physical disability, cognitive condition, or mental illness
You're able to travel independently
You find it difficult to touch on or off or remember to do so
Useful Links
Scooter and Wheelchair Travel Pass
This allows individuals who rely on a scooter or wheelchair for mobility to travel free on public transport in Victoria.
To be eligible you must:
Have a permanent and severe disability
Depend on a scooter or wheelchair for mobility outside the home
Be a Victorian resident
The pass is valid for travel on metropolitan trains, trams, and buses, V/Line trains and coaches, regional town buses, and regional services contracted with Public Transport Victoria.
If you are travelling with a scooter or wheelchair on a V/Line train or coach, it's recommended to book 24 hours in advance.
Bookings can be made through the V/Line website or by calling 1800 800 007.
Useful Links
PTV – Scooter and Wheelchair Travel Pass
Vision Impaired Travel Pass
This allows legally blind individuals in Victoria to travel for free on some public transport. To be eligible, a person must be assessed as permanently and legally blind by an opthalmologist or optometrist, and be a Victorian resident.
The pass is valid for travel on metropolitan trains, trams, buses, V/Line trains and coaches, regional town buses, and regional services contracted with Public Transport Victoria.
It's important to check if the pass is accepted before travelling with interstate or private operators.
The pass is loaded onto a personalized myki card with the holder's photo and does not require touching on or off. It must be shown to public transport staff when requested. It is recommended to carry the pass while using public transport.
Useful links
PTV – Scooter and Wheelchair Travel Pass
Multi-Purpose Taxi Program (MPTP)
If your child receives the Disability Support Pension and has a severe and permanent disability that prevents them from safely using public transport, they may be eligible for an MPTP card.
MPTP cardholders receive a 50% discount off the standard fare (up to $60 per trip).
Things to remember:
When booking a vehicle, ask for a fare estimate in advance
Inform the driver that you have an MPTP card at the start of the journey
The passenger is responsible for paying any road tolls or airport fees
Details on how to apply can be found on the Commercial Passenger Vehicle Victoria website. Your doctor will need to complete a medical assessment online.
Useful Links
Commercial Passenger Vehicles Victoria
Travellers Aid
Travellers Aid Australia operates from Southern Cross and Flinders Street stations in Melbourne, and Seymour railway station in regional Victoria.
They provide care and assistance to travellers with mobility needs. Their services include connection assistance at various stations, mobility equipment hire, luggage storage, companion service, crisis travel support, personal care, and information about station lounges. These services are accessible to anyone. To book a service you can contact them through the website or by phone.
Useful Links
The Hidden Disabilities Sunflower lets others know that you or your child has a disability or condition that may not be immediately apparent. Also that you may need a helping hand, understanding, or more time on transport or in public spaces.
You can pick up free Hidden Disability Sunflower products from some train stations, City of Melbourne tourism hubs, and from Travellers Aid at Flinders Street and Southern Cross stations.
Useful Links
Metro Trains is part of the Hidden Disabilities Program
Melbourne Airport is part of the Hidden Disabilities Program
City of Melbourne is part of the Hidden Disabilities Program
Order Hidden Disabilities Sunflower lanyards and wristbands online