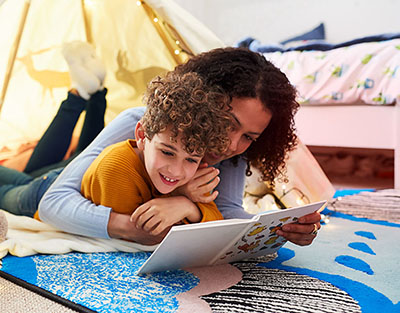 Accessing NDIS support for children aged 9 and older
The NDIS is an Australian Government scheme that provides funding to people with disability to purchase the support they need.
Eligibility
To be eligible for the NDIS your child must be aged nine years or over and they must have a permanent and significant disability that affects their ability to take part in everyday activities.
The NDIS is only available to Australian citizens, permanent visa holders and protected special category visa holders who are living in Australia.
If you are not eligible because of your visa status (e.g. you are a New Zealand citizen) you may be able to get support through Home and Community Care (HACC).
To find out more about HACC contact your Local Council.
Applying
An application to the NDIS is made through an Access Request. There is an online Access Request Form or you can call them on 1800 800 110.
You can complete the Access Request Form yourself or your child's GP, paediatrician, therapist or specialist can complete it.
You must provide evidence of your child's disability along with the Access Request Form.
Providing evidence of your child's disability
To allow the NDIS to decide whether your child meets the disability access requirements, you need to provide good evidence of your child's disability as part of your Access Request. This includes information about what your child's disability is, how long it will last and how it impacts your child's life.
Good evidence is:
Recent
Completed by a treating health professional who is relevant to your child's disability
Confirms your child's disability
Confirms the impacts of your child's disability on the different areas of their life
Describes previous treatments and outcomes
Describes future treatment options and expected outcomes of those treatments
The evidence should be provided by the most relevant healthcare professional and they should have known your child for at least six months. This can be provided by:
General Practitioner (GP)
Paediatrician
Orthopaedic surgeon
Occupational therapist
Speech pathologist (therapist)
Neurologist
Psychologist
Psychiatrist
Physiotherapist
Getting help with your Access Request
Your child's GP or paediatrician should be able to help you with your child's NDIS Access Request.
Across Australia there are NDIS partners called Local Area Coordinators. They can also help you access the NDIS.
Access Request decisions
When the NDIS receives your completed Access Request, it will be reviewed against the NDIS Act. The NDIS Act is the law which guides the NDIS and it states who is eligible to get NDIS support.
You may be asked to provide additional evidence to help the NDIS make their decision.
You will be told in writing if your child's NDIS Access Request has been successful or not.
Under the Participant Service Guarantee you should get an answer within 21 days.
What happens next if your child gets access to the NDIS
If your child has gets access to the NDIS the next step is a meeting with an NDIS Planner or a Local Area Coordinator to talk about your child's needs. This is called an NDIS planning meeting.
The NDIS Planner or Local Area Coordinator will contact you within 21 days to arrange this meeting.
After the planning meeting you will get a copy of your child's NDIS Plan. The Plan will include how much NDIS funding is in the Plan and what you can spend it on. You should get this within 56 days of the Planning Meeting.
Appealing the decision or re-applying if your child does not get access to the NDIS
If your child does not get access to the NDIS and you disagree, you can request an internal review of the NDIS decision.
If that is unsuccessful you can apply to the Administrative Appeals Tribunal for a review.
Re-applying to the NDIS
Access decisions are based on the current impact of your child's disability. The impact of your child's disability can change over time because of a degenerative disability or a deterioration in their day-to-day function. If the impact of your child's disability has changed and if your Access Request was more than three months ago you can make a new request. Make sure you include new evidence.
Useful links
What is an Access Request Form
Offices and contacts in your area