Reflections on telehealth in COVID-19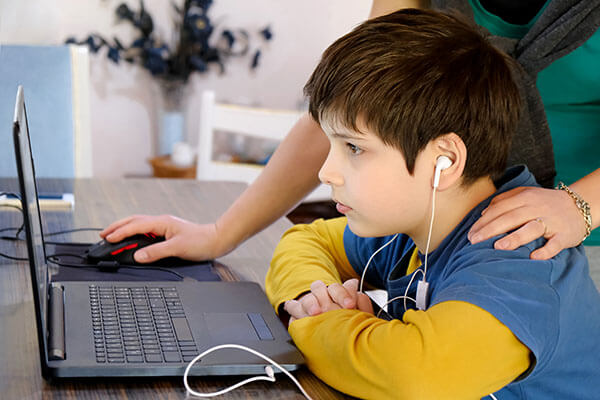 Testimonial: "I learned again not to underestimate my kids. They often teach me things, especially about technology! It was also a reminder not to be too hard on myself." - Parent
Reflections on telehealth in COVID-19
Making the change from face-to-face therapy to telehealth has been a big adjustment for children with disability and their families.
We asked four families to share the joys and challenges of their first telehealth sessions:
A reminder not to underestimate my kids
Being the highly organised parent that I am, of course I explained to my teenager (who has ASD and intellectual disability) what was going to occur with our first telehealth appointment, who he was going to see on the screen and how it would work (NOT!).
In this crazy time, I left it all to the last minute and as the ring tone was sounding, I explained that he would be seeing his psychologist using FaceTime. I thought there was no way this was going to work. So when my son ushered me out of the room as he wanted to talk, I was so relieved.
The psychologist said that my son was interactive and attentive. He did wander around and want to show her his room and pets, but she had expected that. So overall, not a disaster at all.
So I said to myself, right mum – next time, spend some time setting up what Zoom is and explain how he will meet a new speech therapist just for a little while through mum's laptop.
When the time came, it was all hurried again and as we sat together meeting our new speech therapist, my son disappeared and I thought ok, that is his limit. But I was wrong! He had gone to get his laptop, had signed himself into Zoom and was looking for the meeting code. In less than two minutes he had set himself up and was using the chat function to talk with his new speech therapist.
I learned again not to underestimate my kids. They often teach me things – especially about technology! It was also a reminder not to be too hard on myself.
Parent of a teenager with ASD and intellectual disability
Gross motor activities
We've just had our first telehealth session of occupational therapy and it was a great success. Before the session, our therapist emailed through what equipment we would need for the hour: a knife and fork, a banana to cut, pipe cleaners and threading beads.
At first I was in a bit of a panic, as I only noticed this message when I was looking for the Zoom link 10 minutes before the session… eek! However, a quick run-around and it was all sorted. I felt lucky we were able to connect easily. Sometimes if there's a lot of online traffic this can take a while. Just in case, next time I will make sure I begin the process earlier.
I was relieved that the start of the session went well, but I became a little stressed when the therapist introduced the idea of gross motor activities. Generally, this was a success and my daughter had enough room to move once I'd quickly pushed a few things out of the way.
Sometimes it became difficult for my daughter and her therapist to see one another when they were doing exercises close to the floor. Instead of connecting via the desktop computer, next time I will set up the laptop for better flexibility. The therapist said she would think through some of these issues, too.
I was worried that my daughter, who can be hard to engage and motivate, may just up and leave the room at any stage. I stayed within earshot just in case I needed to help out. Fortunately, this was not the case and she adapted to the new learning environment easily.
My daughter was proud she had an 'online meeting' just like her parents. I was very proud she took to the new platform like a duck to water!
Parent of a teenager with autism and Down syndrome
Adjusting to new routines
Before the order to 'stay at home', my son saw a speech therapist weekly at his school to support his NDIS goals. With so many rapid changes, his therapist and I thought it was important to maintain routines where possible so we talked about using telehealth.
At first, I felt hesitant and a little overwhelmed. Would my son be able to cope with this change? Could I cope with adding another responsibility to my growing list? Could we do this with all five family members at home?
We negotiated the session time and video platform we were most familiar with. His therapist assured me that they had been trained to deliver therapy online and assist with any technical issues. I didn't know they had been offering telehealth before COVID-19 social distancing. All you need is a computer with a webcam and a reliable internet connection.
Telehealth worked well for my son, as he really enjoyed touching base with someone outside our family. As per usual, the therapist emailed me a summary of the session and goals for the next week. I feel happy that we are able to maintain this support for my son during such an uncertain time.
Parent of a teenager with ASD
Overcoming tech issues
We did our first telehealth session this morning and it was great. It sure beat driving into the city and playing the 'find a parking spot' game!
The only hiccup was at the last moment realising that I didn't have the latest web browser update. My son really liked being able to see the doctor (and nice receptionist man) on a big screen. I could have done it on my phone but my son has problems seeing the detail on a smaller screen.
The only advice I'd give others venturing into the telehealth world is not to leave it to the last minute to log on (like I did). It's a good idea to read the information they send you and make sure you're using the correct web browser.
Parent of a young adult with Down syndrome and cerebral palsy
Posted on 04 May 2020