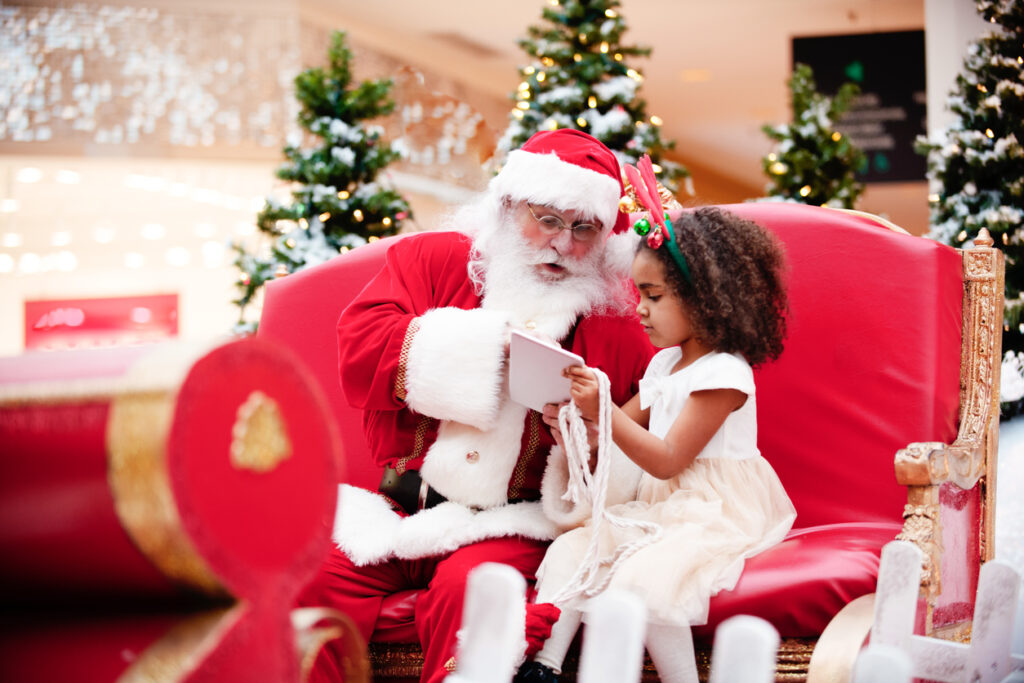 Sensitive and Auslan Santa guide
30 October 2023
We're making a list and we're checking it twice! Here's your guide to Sensitive and Auslan Santa across Victoria.
We know that sensitive sessions book out fast, so we'll keep updating this list as more locations open up for bookings. Please note that some of these locations may not yet be open for bookings.
If you want regular updates on inclusive fun, don't forget to subscribe to our free online newsletter.
Airport West
Book your Santa photo at Westfield Airport West today at Westfield Airport West
Albury
Customer Booking – Services (jrni.com)
Armadale
Simplify Your Santa Visit! | Visit Sensitive Santa at Malvern Central (santasvips.com.au)
Ballarat
Customer Booking – Services (jrni.com)
Casey Central
Simplify Your Santa Visit! | Visit Sensitive Santa at Casey Central (santasvips.com.au)
Chadstone
Tickets for Chadstone Sensitive Santa Photography | Vicinity Centres PM Pty Ltd ACN 101 504 045
Chirnside Park
Simplify Your Santa Visit! | Visit Sensitive Santa at Chirnside Park (santasvips.com.au)
Cranbourne
Doncaster
Book your Santa photo at Westfield Doncaster today! at Westfield Doncaster
Doncaster East
Simplify Your Santa Visit! | Visit Sensitive Santa at The Pines Shopping Centre (VIC) (santasvips.com.au)
Eastland
Make a merry memory with Sensitive Santa (qicre.com)
Customer Booking – Services (jrni.com)
Endeavour Hills
Epping
Offering Auslan Santa
Simplify Your Santa Visit! | Visit Sensitive Santa at Pacific Epping Shopping Centre (santasvips.com.au)
Forrest Hill
Simplify Your Santa Visit! | Visit Sensitive Santa at Forest Hill Chase (santasvips.com.au)
Fountain Gate
Offering Auslan Santa
Book your Santa photo at Westfield Fountain Gate today at Westfield Fountain Gate
Frankston
Simplify Your Santa Visit! | Visit Sensitive Santa at Karingal Hub (santasvips.com.au)
Geelong
Offering Auslan Santa
Book your Santa photo at Westfield Geelong today at Westfield Geelong
Highpoint
Simplify Your Santa Visit! | Visit Sensitive Santa in Highpoint's Magical Christmas Village! (santasvips.com.au)
Keysborough
Simplify Your Santa Visit! | Visit Sensitive Santa at Parkmore Shopping Centre (santasvips.com.au)
Knox
Book your Santa photo at Westfield Knox today at Westfield Knox
Lilydale
Simplify Your Santa Visit! | Visit Sensitive Santa at Lilydale Marketplace (santasvips.com.au)
Melbourne – Bourke Street Mall
Simplify Your Santa Visit! | Visit Sensitive Santa at David Jones Bourke Street Mall (santasvips.com.au)
Moonee Ponds
Simplify Your Santa Visit! | Visit Sensitive Santa at Moonee Ponds Central (santasvips.com.au)
Pakenham
Simplify Your Santa Visit! | Visit Sensitive Santa at Pakenham Central Marketplace (santasvips.com.au)
Plenty Valley
Book your Santa photo at Westfield Plenty Valley today at Westfield Plenty Valley
Point Cook
Simplify Your Santa Visit! | Visit Sensitive Santa at Stockland Point Cook Shopping Centre (santasvips.com.au)
Southland
Offering Auslan Santa
Book your Santa photo at Westfield Southland today at Westfield Southland
Traralgon
Simplify Your Santa Visit! | Visit Sensitive Santa at Traralgon Centre Plaza (santasvips.com.au)
Warrnambool
https://eventphoto.com.au/html/santa-photo-bookings-gateway.html?fbclid=IwAR0513R35n0utEzJjG6xFjdQKKWUHjHOkvI3SL4qNo7DW2CXa6l_2Dz-R-8
Watergardens
Make a merry memory with Sensitive Santa (qicre.com)
Santa events for children with Autism Spectrum Disorders (yprl.vic.gov.au)
Waurn Ponds
Simplify Your Santa Visit! | Visit Sensitive Santa at Waurn Ponds (santasvips.com.au)
Wendouree
Simplify Your Santa Visit! | Visit Sensitive Santa at Stockland Wendouree Shopping Centre (santasvips.com.au)
Werribee
Offering Auslan Santa
Simplify Your Santa Visit! (santasvips.com.au)
Woodgrove – Melton
Offering Auslan Santa
Simplify Your Santa Visit! | Visit Sensitive Santa at Woodgrove (santasvips.com.au)
Yarra Plenty
Santa events for children with Autism Spectrum Disorders (yprl.vic.gov.au)
Read more Inclusive fun