COVID-19 latest information
COVID-19 latest information
Updated 21/07/2022
Here is the latest information to support your child and family.
On this page: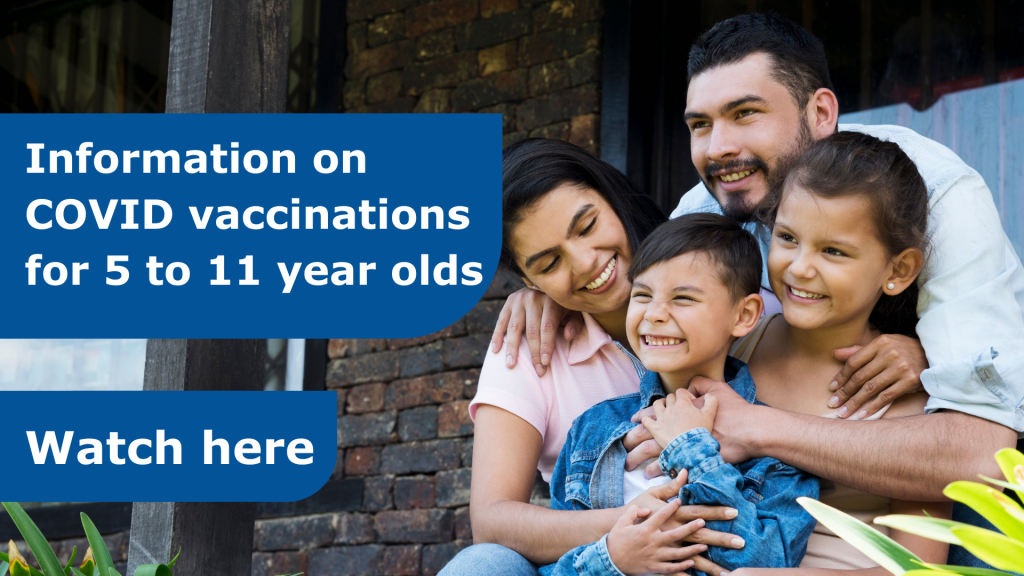 Speaking up for children and families
ACD is speaking up for the needs of children with disability and their families during COVID.
We are calling for increased support for advocacy so families can get the support they need.
For the latest updates, follow us on Facebook and subscribe to our newsletter.
Vaccination
COVID vaccines are free and available for children aged five and older.
Vaccines help protect you and your child against serious illness.
Disability Liaison Officers
Disability Liaison Officers can help you with your child's disability support needs to get vaccinated.
To contact a DLO:
Think about what will help your child get vaccinated. This fact sheet on COVID-19 vaccination planning for young children can help you and your child prepare for vaccination with confidence.
Where your child can get vaccinated
There are a number of ways that children with disability can get vaccinated:
State vaccination centres
Book online or through the Coronavirus Hotline on 1800 675 398.
Children who need sedation
Sedation requires a referral from a GP or specialist from the Victorian Specialist Immunisation Service (VicSIS). Speak first with a Disability Liaison Officer to talk through all the options.
Royal Children's Hospital (RCH) patients
Patients aged five and over who have a chronic medical condition can be vaccinated at RCH. This is not available to the general public. Appointments are essential, no walk-ins.
Book through the RCH Immunisation Hotline 1300 882 924.
Supporting your child
These resources can help you support your child to get vaccinated:
Boosters
Rather than using the words booster and winter booster we are going to talk about how many COVID vaccine doses you can have:
5 to 11-year-olds can have two doses (no booster)
12 to 15-year-olds with a disability that includes significant health needs can have a third dose
Everyone 16 and over can have a third dose
People aged 30 and over can have a fourth dose
Everyone aged 50 and over are highly recommended to get a fourth dose
An additional dose may be required if you are immunocompromised. Talk to your doctor about this
You can get a COVID vaccine 3 months after your last dose
Vaccination after COVID
Even if you or your child has had COVID, vaccination is still highly recommended. You can get any dose of the vaccine three months after you had COVID.
Translated resources
Go to our COVID-19 translated resources page for our translated fact sheet about getting a COVID vaccine for children with additional needs or disability. The fact sheet is available in Arabic, Chinese, Hindi, Vietnamese and English.
Testing
COVID testing is free and available across Victoria. Get tested if you have symptoms or if you are a household contact of someone who has tested positive.
Rapid Antigen Tests (RATs) are available free from COVID testing centres for people who have symptoms and for people who are household close contacts.
If you have a positive RAT test you do not need to get a PCR test but you must report your positive result to the Department of Health.
In-home testing is available for people with disability who cannot get to a testing site. Call the Coronavirus Hotline on 1800 675 398.
If you or your child has disability support needs in accessing COVID testing, contact a Disability Liaison Officer.
If you test positive you need to isolate for seven days from the day of your test.
Useful resources
What to do if you or your child has COVID
If you test positive, you need to isolate for seven days from the day of your test.
Household contacts do not need to isolate if they test negative to five RAT tests in seven days, wear a mask indoors, and do not visit hospitals or care facilities. These are the rules for positive cases and close contacts.
If you test positive you will be sent an online form to complete. Let the Department of Health know that your child has a disability and any underlying medical conditions.
Monitor symptoms and contact your GP or seek medical assistance if you have concerns. Connect with neighbours, friends and family who can help you emotionally, drop off food and provide other practical help.
Support Workers who provide essential care for your child can continue to work in your home if needed, with extra precautions such as everyone wearing masks and increasing airflow.
A Disability Liaison Officer can assist you if you need help isolating.
If one member of your household is positive and the rest are negative you can reduce the risk of catching COVID by:
Everyone wearing masks
Increasing airflow – keep doors and windows open, use fans and an air purifier if you have one
Using separate bathrooms, if possible
Physically distancing, if possible
Regularly wash or sanitise hands
School, child care and kindergarten
Rapid Antigen Tests (RATs)
RATs will be provided to child care/kindergarten students aged three to five as well as all primary and secondary school students
RATs are free, they are for you to use at home. They are optional.
If your child has a positive RAT result let the child care, kindergarten or school know and report the result
Masks
Masks indoors are recommended for all staff and students aged 8 and older
Masks to be worn indoors by staff and students aged 8+ if they are a household contact of a person who has tested positive
Surgical masks will be provided free at all schools
If your child cannot wear a mask due to disability or medical condition then they are exempt. There is no need for a letter from your GP. You can simply tell the school your child can't wear a mask
Other school activities and visitors to schools
School camps, sporting activities and excursions will go ahead
Parents and allied health therapists can go on child care, kinder and school sites
If there is a COVID case at child care, kindergarten or school
Staff and families will be notified if there is a COVID case in their child's cohort
If your child has been exposed, they can keep going to child care, kindergarten or school but you should monitor closely for symptoms
Keep your child home if they have any symptoms even if they have a negative RAT test
Learning tasks at home
If your child has to isolate because they have COVID they will be given learning tasks to do at home
NDIS
It's important to talk with your child's Support Workers and service providers about how you want to manage your child's and family's health and safety during COVID.
This includes:
All Support Workers must now be vaccinated. This includes having a booster. You can ask your Support Worker for proof of their vaccination status
When the Support Worker is in your home you can choose for everyone at home to wear face masks
Where possible maintain physical distancing
Increase ventilation by keeping doors and windows open, turn on fans and use an air purifier if you have one
Regularly wash or sanitise hands
Useful resources
Information about purchasing RAT tests and other support you can access through the NDIS during COVID
Looking after yourself
Support is available over the phone and online:
Parentline 13 22 89
LifeLine 13 11 14
Beyond Blue 1300 22 4636
Kids Help Line 1800 55 1800
Ask Izzy for food relief and other help
Safe Steps Family Violence Response Centre 1800 015 188