Raising a high-support needs teen with confidence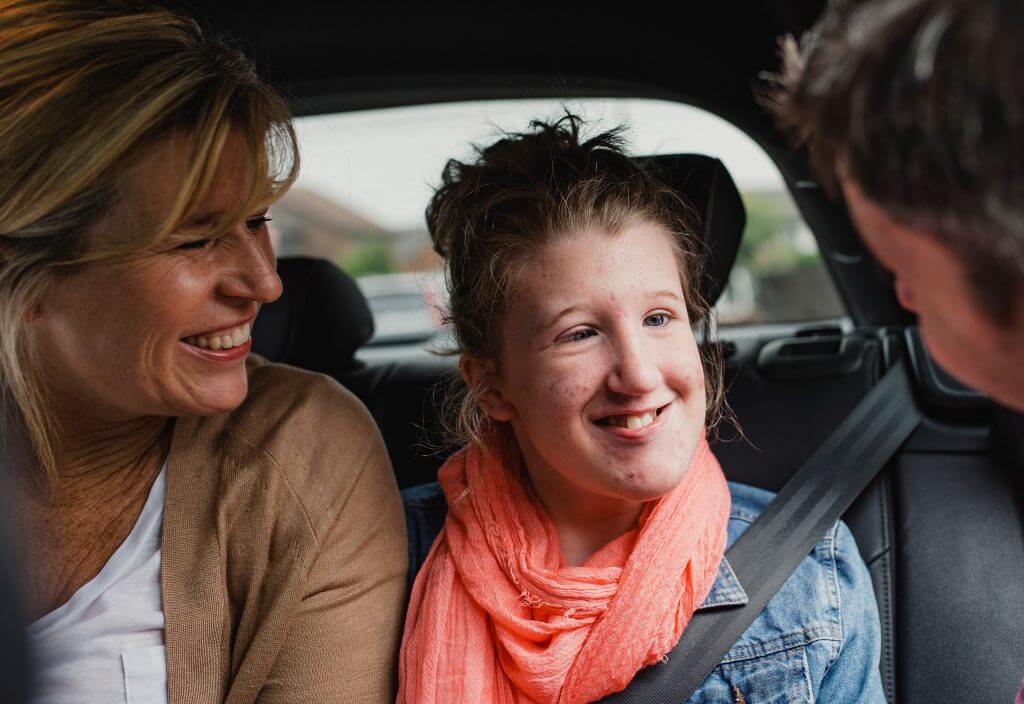 Testimonial: "It does get easier emotionally – we have the same challenges, but we feel stronger and better prepared to take on new challenges that come our way."
Raising a high-support needs teen with confidence
As parents of a teenager with disability, we've gone through the highs and lows of our daughter's development.
When our 15-year-old daughter Celina was younger, things were difficult and there were lots of tears, strong emotions and high levels of stress in our family. Celina has level III – IV cerebral palsy, which means she needs physical assistance and powered mobility to move around. She also has an intellectual disability, is non-verbal and requires 24-hour care.
Because of her high-support needs my wife Lily and I had to re-adjust our expectations for the future and Lily had to give up work to take care of Celina.
As a young child Celina was in so much pain due to underlying medical conditions and we were constantly in and out of hospital taking care of her. It was hard for so many years because of the stress of seeing our daughter struggle.
Added to this was the feeling of fear that loomed over our family regarding Celina's future. Her diagnoses mean her life expectancy is limited and her future is unknown. Because of the uncertainty around Celina, both of our lives became consumed with ensuring her needs were met.
One question was constantly on our minds – were we doing the best we could for our daughter? After all the work we were putting in, was she living her most optimal life? Were we giving her enough therapy? Were we making sure her education met her needs? That kind of concern was always there for both of us as Celina was growing up.
When she was 13 years old Celina became an NDIS participant – this became a good time for our family because we started getting more help both financially and for organizing all the care she needed. From her NDIS Plan, Celina now has a physiotherapist, a speech therapist and an occupational therapist.
Celina also has carers whom she adores. We think it's great her carers are young and fun and take her places she really enjoys like roller-skating and bowling. It's always great to see Celina's wonderful personality come out – she also loves feeding the ducks in the park, watching her favourite stars on YouTube, engaging with the world around her and experiencing new things.
It's also given Lily the chance to start working full-time again because she now has breaks from caring for Celina. For our family, having more support for Celina's daily care has meant we as her parents can now focus on other, bigger changes Celina is going through – such as becoming a teenager.
One change we're dealing with as she grows up is simply thinking about how we treat her. Lily is still Celina's main carer, and it's so easy to baby her because of her high-support needs.
We're trying to now provide space for her to express her opinions as any teenager would do. We encourage her to try new things, and remember what it was like to be teenagers ourselves – even though it's a bit different for our daughter.
We didn't really know what to expect or how to plan for Celina's transition to adulthood – but we had used ACD's services when Celina was younger so we thought it would be a good place to start.
We went along to their Teens and Beyond workshop and it helped us think about some practical things for Celina that we hadn't considered before. This included getting her Centrelink organized and potentially setting up her own bank account.
Another thing we liked about the workshops was the empathy. As parents of a child with disability it's easy to feel isolated, but hearing other parents talk about their teenagers and their experience as a family navigating this tricky time helped us feel more connected.
While we can't speak for everyone else's experiences, our family life has really improved since Celina became a teenager. Since the age of about 13 years old, she's been happier and more engaged, and we now have help for all her needs thanks to her NDIS Plan.
Things have turned around for our family in the past three years. We're past that stage of asking 'why us?', feeling anger and frustration at the situation, and feeling overwhelmed with the amount of time, energy and life adjustments that come with raising a child with high-support needs.
It does get easier emotionally – we have the same challenges, but we feel stronger and better prepared to take on new challenges that come our way.
One thing we'd like to do now that Celina's happier, is to connect more with the community. It's so easy to become socially isolated, and even when you do make plans, issues can pop up at the last minute and you can't make it to certain events. It'd be great for us to meet other parents in similar situations – and for Celina to meet other teens with disability.
Our family is in a comfortable routine now and we've accepted things the way they are. We know Celina's life is precious, so we are simply being present and enjoying this time as a happy family unit with a happy teenage daughter.
If you would like to book into our Teens and Beyond workshop just like Celina's parents, find out more at the link here.
Posted on 07 September 2021