Playgroups and child care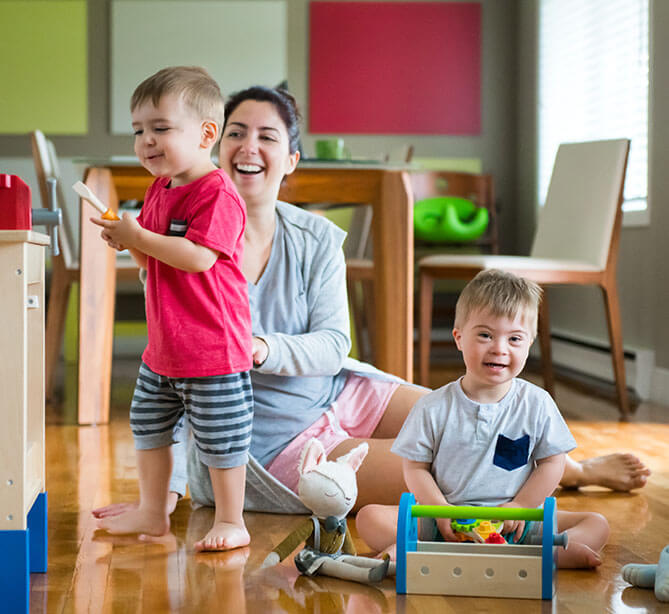 Playgroups and child care
Playgroups and child care can support your child's early learning and help you to connect with other families in your community.
Playgroups
Playgroups are a great way for both you and your child to connect with other families and have some fun. The benefits of playgroups include helping children to develop skills such as making friends, taking turns and being part of a group. They also give families an opportunity to enjoy play activities in a different environment away from home.
Can children with disability go to playgroups?
Playgroups are inclusive of all children. There are also a number of disability-specific playgroups, including PlayConnect for children with ASD and playgroups with Auslan interpreters. You can search for all the playgroups near you on the Playgroups Victoria website.
Playgroup Victoria
Call 1800 171 882 or visit the Playgroup Victoria website
MyTime groups
MyTime is for parents and carers of children with a disability, developmental delay or chronic medical condition. It's a place for you to unwind and talk about your experiences. It's a world away from appointments and therapy. A Play Helper is there to play with preschool children.
For more information visit the MyTime website
Child care
Children with disability attend a range of child care services. For preschool aged children there is Centre Based Care (Childcare Centre, Long Day Care or Early Learning Centre) or Family Day Care. For school aged children there is Outside School Hours Care.
The Child Care Subsidy helps families with the cost of child care if you are working, looking for work, or if you receive the Carer Payment.
For more information visit the Child Care Finder website.
How can child care services be inclusive of children with disability?
Child care and early childhood services can get support from the Victorian Inclusion Agency with specialised equipment and other support to include children with disability.
For more information visit the Victorian Inclusion Agency website.