Keeping on track at school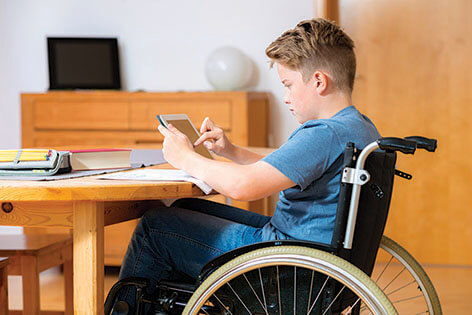 Testimonial: "Our lives are complicated and finding a way to navigate through it all has been a lifesaver." - Parent
Keeping on track at school
Our son Adam has autism and ACD first supported us with the transition from early intervention and kinder to mainstream school. It was great to touch base and check that we were doing all the right things to support our son. Adam also has asthma, anaphylaxis and immune deficiencies so we have to keep on top of his medical needs as well.
When Adam was six, he fell over at school and grazed his ankle which resulted in sepsis (a medical emergency) and we nearly lost him. He spent his first term of school at RCH having reconstructive work on his foot and was in a wheelchair.
It was incredibly frustrating when Adam returned to school because it was all about funding and getting the school to make adjustments to meet his needs. I struggled to make sense of the education policies and to get even simple things put in place, such as a disabled toilet and a ramp.
I had lots of conversations with ACD and they gave me strategies to work with the school. An ACD Support Advisor helped me to plan and prepare for school meetings and keep things on track. ACD helped us put clear processes in place with the school, which included having face-to-face meetings with minutes so that we could follow things up.
Our two big issues now are the transition to secondary school and the NDIS. We always have to do lots of work in the background before we get results. Regular contact with ACD keeps me up-to-update with the latest information and helps me stay positive.
When I attended the ACD NDIS workshops and peer support groups it was good to be around other people who were facing similar challenges. Our lives are complicated and finding a way to navigate through it all has been a lifesaver.
We get support from lots of other organisations that focus on a specific area — like being an amputee, autism or medical issues — but ACD represents the overall way we need to operate as a family and brings it all together.
Adam is now well and loves going to school. He's proud of his achievements and is working hard. We are still working with the school through the next phase of our son's life. Things are always evolving for us and ACD is there to support us at every stage.
Parent
Posted on 02 February 2021